Photo Album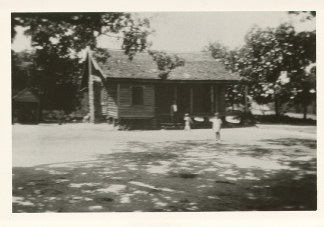 The
James Pendleton Mangham
home place
in the Springs District of Pike County, Georgia, 1934. One of his sons was Cpl. Charles Absalem "Nat" Mangham (see below), who lived at his Uncle John's home in Zebulon much of the time.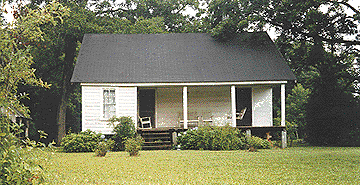 ~ The James P. Mangham home in August 2000
Nat and his brother, Will, were both wounded at Sharpsburg while serving in the "Confederate Guards," Company A, 13th Georgia Infantry. Nat survived to surrender at Appomattox, and later moved to Panola County, Texas. Will's severe wounds disabled him for active field service, so he spent time in the 1st Georgia Reserves as a lieutenant. The regiment had the unpleasant duty of guarding the notorious Andersonville Prison. Will died in Pike County in 1874 (click
here
to see his grave). See Nat's grave
here
.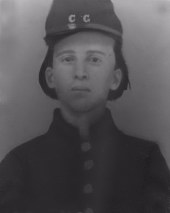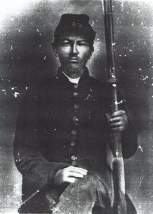 ~ Courtesy of Joseph Reichert & Frances Greene
Sharpsburg, Maryland (Antietam), September 1862.
(They served in Lawton's Brigade, located on the far northern flank of Lee's Army.)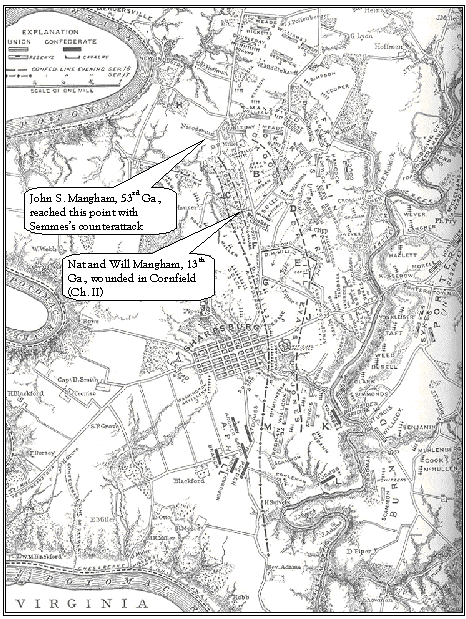 * * * * *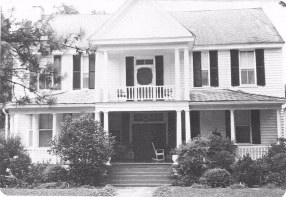 ~Courtesy of Glenda Owens
The Seaborn Moore home in Butler County, Alabama. His stepsons, Charles Arthur Mangham and William T. T. Mangham, lived here before enlisting in the army. Charles was captured at Missionary Ridge in November 1863; refusing to take a loyalty oath, he spent the rest of the war in prison. Willie was wounded at Spotsylvania in May 1864, recovered, and was captured in March 1865 during Lee's assault on Fort Stedman at Petersburg, Virginia.
* * * * *
John Willis Mangham
and the 2nd Georgia Battalion Sharpshooters seized the
"Stone Hill"
(lower left) at Franklin, Tennessee on November 30, 1864. They cleared the way for the Army of Tennessee's main attack, in which 7000 men became casualties in five hours of ferocious combat. Sixty-five regimental, brigade, and division commanders fell in this assault.
If you can verify the identities of the persons pictured below, please contact me!
Photos courtesy of Jack Martin, Birmingham, Ala.
Martha E. Mangham Martin & son Willie
(she was a daughter of
Thomas R. Mangham
and Matilda Grant Mangham
, shown below)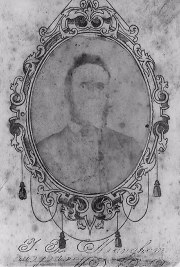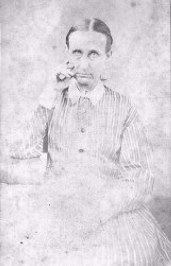 A photo of their graves at Read's Mill, Alabama. Thomas's grave is illegible, except for the "TRM" markings on his footstone (left, with author's daughters Amanda & Carolyn). Matilda is buried next to him, and her headstone is broken. (I took these photos in June 2001.)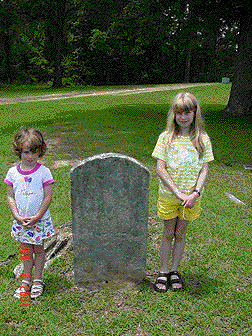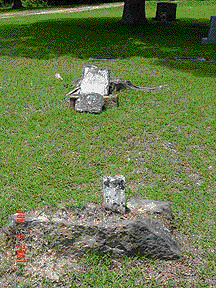 Below: Unknown persons, possibly the Mangham brothers of Rayville (Thomas & Henry), or their in-laws.
Photos courtesy of Jack Martin, Birmingham, Ala.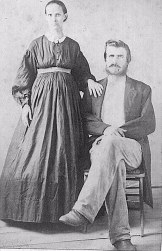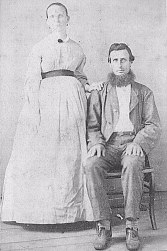 Below: Zoetta Martin Mangham, daughter of Francis Joseph Mangham (Co. A, 1st Mississippi Light Artillery), and her husband, Samual George Young. Their children are (l-r) Sam, Alonzo ("Lonnie"), Robert, and Guy.
Photo courtesy of her g-grandson, Clyde Woodruff, Jr.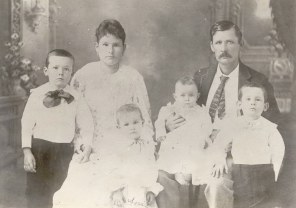 Below: The Wiley Paul Mangham family of Chambers County, Alabama.
In the photo are the following families left to right:
1. Son, Charles Edgar and Fannie Dove Bradfield Mangham with children Ernest, Thelma, Auston and Horrace.
2. Daughter, Annie Rebeka Mangham Scott with children Raymond and Dorit. (The young man behind Annie is unidentified.)
3.
Wiley Paul and Mary Frances Waldrop Mangham.
4. Behind them are their son James Thomas and Ella Andrews Mangham, with Ella's niece Mattie, whom they raised after her parents died.
5. Next are son Robert Waldrop and Lee Anna Elizabeth Bradfield Mangham, and their son James Tyler Mangham.
6. Next are son-in-law G. Willie and Marianna Ada Mangham Johnson, and their sons, Charles Anason and Otha Perry Johnson. This photo was taken about 1906.
~Photo courtesy of g-g-granddaughter, Judi Gaddy
Here is another 1931 photo of Wiley Paul Mangham, also courtesy of Judi Gaddy. See Wiley's grave
here
.