About the Author
(Updated 7/20/07)
Dana M. Mangham retired in 2005 as a lieutenant colonel from the US Army Ordnance Corps.

I served from 1992 to 1995 and 2002 to 2005 as Assistant Professor of History at the US Military Academy, West Point.
From 1998-2001, I was the Professor of Military Science (Army ROTC) at Bowie State University in Bowie, Maryland, where I was also an adjunct member of the History Department faculty.

I hold degrees in history from Louisiana State University and Rice University, and have authored several articles on the Civil War.

My other military assignments included seven years in the 59th Ordnance Brigade in Germany (1983-1990). . .

. . .and two years in the 1st Cavalry Division (1996-1998).
I served a year in Korea (June 2001 to June 2002) with the 19th Theater Support Command in Taegu and at Camp Carroll.

Nan and I bought a home in St. Francisville, about 30 miles north of our old hometown of Baton Rouge. I now serve as Senior Army Instructor, Scotlandville Magnet High School Army JROTC, the "Hornet Battalion."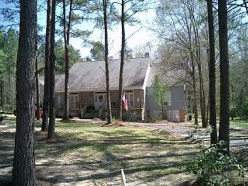 In the last several years, I have focused on the Red River Campaign in western Louisiana. See the West Point website for info about the staff ride I designed & conducted. Click
here for the 2004 website
, and
here for the post-staff ride PowerPoint presentation
I prepared. I have given presentations in Alexandria, Baton Rouge and Hammond on this topic, and hope to publish a staff ride / tour guide on this campaign.
Born and raised in Baton Rouge, Louisiana, I married the former Nancy Speir. We have two children, Carolyn and Amanda.
With both Nan and Carolyn born in Texas, you see that the "Yellow Rose of Texas" was the only possible song for this page. . . !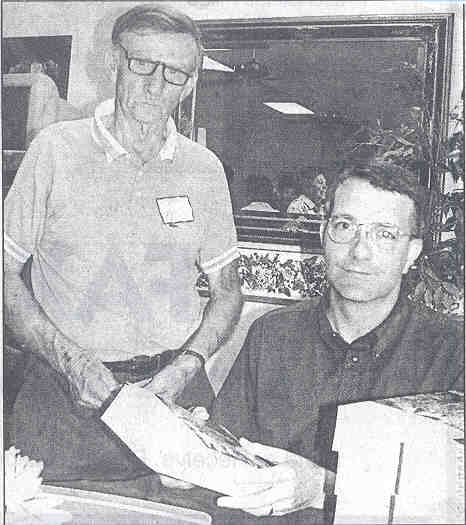 Author (right) at August 2000 book signing appearance at the Molena Nursing Home in Molena, Georgia, with cousin William Decatur Mangham, grandson and namesake of the Confederate soldier of that name.
Corporal
William D. Mangham
served in the 13th Georgia; after suffering terrible wounds at Sharpsburg in 1862, he transferred to the 1st Georgia Reserves as a lieutenant in 1864. Will's eldest brother, Sgt.
John Willis Mangham
of the 2nd Georgia Battalion Sharpshooters, was Dana's great-great-grandfather.
Frances Greene kindly sponsored my appearance in Molena, just a few miles from the Mangham homeplace where John and Will grew up. About 75 Manghams came from the local area and elsewhere in Georgia, and we had a GREAT time!
I also did presentations at the Georgia Department of Archives & History, the East Baton Rouge Parish Library, and the Rhymes Memorial Library in Rayville, La. (where
Tom & Wiley Mangham
published the
Richland Beacon
for so many years), as well as a book signing in Nacogdoches, Texas. My thanks to the kind sponsors of all these events.